We service:
Irrigation Engines
All Conversions
Ethanol Motors
Dual Fuel
Natural Gas Engines
Custom Engines
Irrigation Pumps
Natural Gas Generators
Antique Tractors
We are a proud dealer of
AmeriFuels Ethanol Engines
Agricultural Equipment Repair Services
Gas Industrial & Agricultural Engines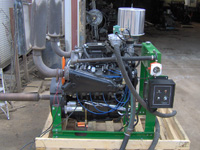 The Johnson Irrigation Engine Service team understands you need to get your equipment up and running again as fast as possible. We satisfy the need for quality craftsmanship and affordable options. We can custom remanufacture your industrial or agricultural engine using precision state-of-the-art machine equipment and heavy-duty parts designed for the everyday labor intense work required by your equipment. If you need to replace an existing engine, please contact us for available inventory. In addition to engines, we service pumps and generators.
World Class Products & Service
We are committed to selling and servicing engines, pumps, generators and lawn mowers with the highest level of integrity. Our goal is to offer customers world class products and deliver prompt and friendly customer service. Let Johnson Irrigation Engine Service design, install or service your industrial or agricultural machines, and you'll experience a higher level of customer satisfaction.
Call 620-668-5585
or
contact us online
.
Proudly serving in and around Copeland, Dodge City, Liberal, Montezuma, Haggard, Sayre, Fowler, Garden City, Scott City, Colby & Cimarron, Kansas.