Learn more about our Grasshopper Lawn Mower Products:
FrontMount Series
MidMount Series

We service:
Irrigation Engines
All Conversions
Ethanol Motors
Dual Fuel
Natural Gas Engines
Custom Engines
Irrigation Pumps
Natural Gas Generators
Antique Tractors
Your Local Grasshopper Mower Dealer
Buy Quality Lawn Mowers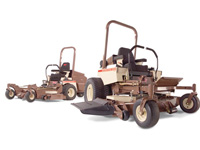 If you're in the market for a new lawn mower, Johnson Irrigation Engine Service is your local licensed dealer for Grasshopper Mowers. You'll never have to make excuses for neglecting yard maintenance again. The service-friendly Grasshopper design makes it easy to keep your mower in peak operating condition and avoid downtime. Fewer grease points and easy access to belts and filters translate into less time spent maintaining your mower, and more time using it profitably.
The Lawn Mower of choice for smart professionals & consumers
Powerful, design-matched drive systems use quality pumps and wheel motors chosen to work together, to run cooler and more reliably for longer service life. The combination of Hydro-Max™ fluid and genuine Grasshopper filters provides the lowest operating costs of any commercial drive system available. Grasshopper mowers can run up to five times longer than other mowers between transmission oil changes – that's up to 1,000 hours!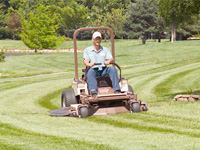 A Message from Grasshopper
We've spent 40 years perfecting the design of our Grasshopper True ZeroTurn™ mowers to provide not only unparalleled performance, but also a wide range of advantages that improve efficiency, banish operator fatigue and simplify maintenance.
With tough, durable construction, you can count on your Grasshopper to stand up to the punishment of demanding applications, while maintaining its reputation as the most comfortable and easy to operate mower in the industry.
Explore the advantages of owning a Grasshopper and you'll see why our True ZeroTurn™ FrontMount™ and MidMount™ mowers remain the machine of choice among smart professionals and consumers.
Proudly serving in and around Copeland, Dodge City, Liberal, Montezuma, Haggard, Sayre, Fowler, Garden City, Scott City, Colby & Cimarron, Kansas.